Mexborough and Swinton Times, February 3, 1917
Houghton Soldiers – Another Family Record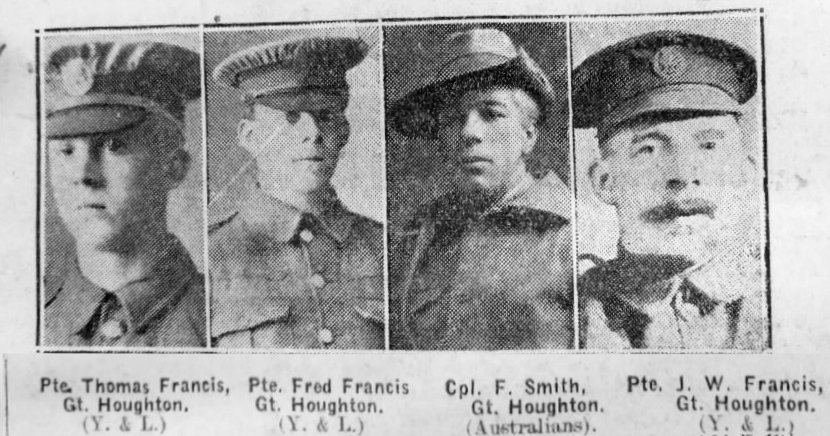 Private Fred Francis, son of Mr and Mrs George Henry Francis, of Dearne Villas, Great Houghton, last week returned to the front after spending a 10 days furlough at home. Private Francis enlisted soon after the commencement of hostilities, and was previously employed at the Dearne Valley Colliery.
He has served on three battlefronts, Gallipoli, Egypt and France within a year. Joining the colours at Wombwell, he was trained at Grantham and Aldershot, and, accompanied by younger brother Private Charles Thomas Francis, left England for the Dardanelles on July 1, 1915. They took part in the landing at Suvla Bay on August 6 and fought in several subsequent engagements.
Private Charles Thomas Francis was wounded and is at present in a hospital in Shropshire.
Private Fred Francis was drafted to Egypt, and in June last transferred to France, where he has seen some of the most severe fighting on the Somme.
Private J.W. Francis, the eldest son, who previously worked underground at the Dearne Valley Colliery, joined the York and Lancaster Regiment in September 1914, and was drafted out Egypt and subsequently to France. He was over on furlough a few weeks ago.
Corporal Fred C Smith is a nephew of Mrs Francis and son of an Australian schoolmaster. He joined an Australian contingent, and is now in training in England.